News & Events
Check out all the good things that have happen
Sun, 27 Jun 2021
RUCHI Khabar Volume-1 English Edition | Download PDF
Wed, 06 Mar 2019
Bhubaneswar Leadership Awards 2019, Best CSR Practices
Mon, 25 Feb 2019
Business Awards, for visionary leader in spice sector by Times of India.
Tue, 19 Feb 2019
A tribute to martyred soldiers of Phulwama attack on 19.02.2019 by Ruchi Family
Sat, 19 Jan 2019
Brands of Odisha Pride of India, Corporate Excellence Awards 2019 by Hon'ble Chief Minister of Odisha Sj. Naveen Patnaik at Mayfair Resorts, Bhubaneswar from SAMBAD Group
Sun, 16 Dec 2018
Doctor of Philosophy in Industrial Management from Ballsbridge University at India Habitate Centre, New Delhi.
Fri, 16 Nov 2018
Odisha Living Legend Youth Inspiration Award-2018 in Business Leadership Category by Hon'ble Health Minister Sri Pratap Jena from Odisha Diary Foundation
Tue, 04 Sep 2018
Dadhichi Award-2018 by Prof. Ganeshi Lal Hon'ble Governor of Odisha
Fri, 31 Aug 2018
22nd Ruchi Prativa Samman celebrated on 31.08.2018
Thu, 23 Aug 2018
Odisha's pride RUCHI Spices participated in AAHAR International Food & Hospitality Fair from 23rd to 25th August held at Chennai Trade Centre, Nandambakkam, Chennai. The stall was inaugurated by Chief Guest. Mrs. Tejasmi Singh.
MR. SKR RAMESH, Ex-President, Sourashtra Chamber of Commerce, Madurai, MR. JOSEPH. R. KISHORE, President & CEO, USP Packaging Solutions Pvt. Ltd. & MR. K. RADHAKRISHNAN, Proprietor, Premier Spices joined this ceremony as Guests of Honour.
Along with other dignitaries Mr. Sarat Kumar Sahoo, Managing Director, Mrs. Sangita Sahoo & Rashmi Sahoo, Director of RUCHI Spices also presented in this ceremony.
Mon, 16 Jul 2018
"Entrepreneur of the Year Service Business Award-2018" by Mr. Gaurav Marya, Chairman, Franchise India and Ms. Ritu Marya, Editor in Chief, Entrepreneur Magazine (US based Entrepreneur Magazine) in association with Franchise India Holdings Ltd., Faridabad at Hotel JW Marriott, Aerocity, New Delhi
Sat, 14 Jul 2018
Ruchi celebrated it's 43rd Foundation Day on 14th July, 2018 in which the HSC scholars of RUCHI Family were felicitated with "RUCHI VIDYARTHI SAMMAN-2018" & famous Odia singer Miss. Ira Mohanty felicitated with "RUCHI KALA SAMMAN-2018".
Sat, 16 Jun 2018
"Shrie Award" to Sri Sarat Kumar Sahoo by Sri Prabhu Chawala, Editorial Advisor, The New Indian Express from Parichay Foundation, Bhubaneswar
Fri, 13 Apr 2018
Distribution of prizes to the lucky winners of 'Baisakhi RUCHI Mega Upahara' bumper draw, held on the closing day of Cuttack Baisakhi Banijya Mela-2018. A large number of customers participated in this Mega Upahara Yojana by purchasing Rs.10/- spices coupon from RUCHI stall at Cuttack Banijya Mela-2018 and won exiciting prizes.
Sat, 10 Mar 2018
MSME Excellency Award-2018 in large enterprise category by Mr. Prafulla Samal, Minister-MSME, Govt. of Odisha
Thu, 21 Sep 2017
Odisha Business Award-2017 for Best F&B Company from Kanak News by Eminent Ollywood Star Akash Das
Sat, 13 May 2017
'AARYA Award' from Parichaya Foundation by Nobelist Sri Kailash Satyarthi
Mon, 06 Feb 2017
'Guru Gangadhar Smruti Samman' by Dhauli Kalinga Mahotsav
Thu, 08 Jan 2015
"Best Industry Award" for the year 2014-15 from OASME by MSME, Pension and Public Grievance Minister Mr. Jogendra Behera
Tue, 07 Jan 2014
Best Display Stall Award in 'Food Processing Sector' from Odisha MSME International Trade Fair-2014
Sun, 28 Oct 2012
ODISHA ClTlZEN AWARD-2012 to Sri Sarat Kumar Sahoo, M.D., Ruchi Udyog, by Sri Surya Narayan Patro, Hon'ble Revenue Minister & Sri Bijay Mohanty, Eminent Cine Star from OTV.
Sat, 28 Apr 2012
ACRUX SHOWCASE ODISHA AWARD-2012 for Global Business Leadership from Sri Srimoy Kar, Resident Editor, 'The New Indian Express'
Fri, 11 Mar 2011
BEST FOOD PROCESSING UNIT AWARD from NSIC in MSME International Trade Fair by Shri Pyari Mohan Mohapatra, Hon'ble M.P. (Rajya Sabha)
Sun, 28 Sep 2008
BEST SOCIAL ACTIVIST AWARD from Shri Murlidhar Chandrakant Bhandare, Hon'ble Governor of Odisha
Tue, 23 Sep 2008
THE TIMES OF INDIA THINK ODISHA LEADERSHIP AWARD by Shri Naveen Patnaik, Hon'ble Chief Minister of Odisha
Fri, 02 Nov 2007
EXPO-ORISSA AWARD for Excellence in Entrepreneurship by Shri Naveen Patnaik, Hon'ble Chief Minister of Odisha
2004
BEST ENTERPRENEUR AWARD in Golden Jubilee Celebration of State Social Welfare Board, Govt. of Odisha by Shri Naveen Patnaik, Hon'ble Chief Minister
2000
CHINTA O CHETANA AWARD by Shri Sarat Kumar Kar, Hon'ble Speaker & Shri Biswa Bhusan Harichandan, Hon'ble Revenue Minister, Odisha
2000
Biju Pattnaik Memorial Award from Odisha Assembly of Small & Medium Enterprises (OASME) by Shri M.M. Rajendran, Hon'ble Governor of Odisha
1999
1st Swaviman Samman from Govt. of Odisha by Dr.Giridhar Gomango, Hon'ble Chief Minister, Odisha
1997
Best Export Award from OASME by Shri Gopal Ramanujam, Hon'able Governer of Odisha
1996
Best CSR Award by Shri Sarat Kumar Kar, Hon'ble Speaker Odisha Legislative Assembly
From the Blog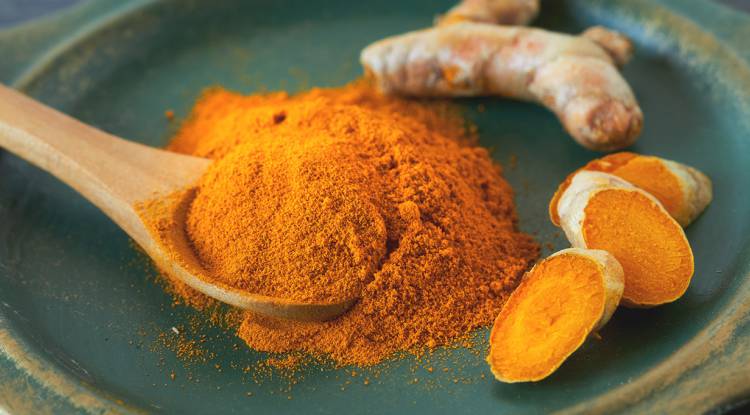 Turmeric - The Golden Spice
Turmeric or Haldi has been recognized in Ayurveda as a major source of benefit to the body in both prevention and treatment of many different conditions. It has been used in Indian cooking for over...
Read More
Got what it takes to work with us? Send us your resumé to become part of our talent pool.